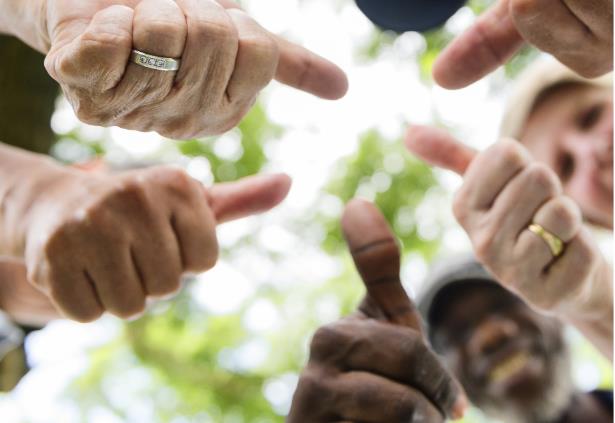 National Senior Independence Month
Life is meant to be lived to the fullest, so no matter what changes you encounter as you age, it's important to maintain independence. February is recognized as National Senior Independence Month to build awareness around this important lifestyle. DayBreak Adult Care Services is taking the opportunity to give you a few tips on how you can maintain independence this month, and in the years to come.
Organize the living space
Cleaning and organizing can have a positive impact on your physical and mental health. Clear, well-lit walkways around the home help decrease the risk of falls, which is a serious and costly issue for those 65 and older. Although decluttering can be a daunting task, especially if you've lost a loved one, it can feel very freeing and energizing once progress is made. In order to remain independent in your golden years, tackling that mess is an important step in order to achieve that goal. If you're having trouble on your own, seek family help, or professional organizers may be able to help you get started.
Embrace technology
Cell phones, tablets, and computers can help with safety and staying connected with friends and family. There are times a cell phone could be your lifesaver. The ability to call for help easily and quickly is important. Also, most phones come equipped with a flashlight, maps, and navigation, which could help in everyday life, and in an emergency. Some companies even make products specifically designed for seniors who haven't used them before and offer lessons.
Make some upgrades
A little preventive maintenance can make a big difference. Have banisters on stairways checked for looseness and install grab bars in the bathroom to prevent unnecessary falls. If you're planning to stay in your home, before doing anything else, be sure to make any repairs you've been putting off. Once you have all the repair items taken care of, you can start adding some new features that prioritize your safety. A few simple things you can do today to prioritize safety in the home include:
Moving kitchen dishes and food to lower shelves.
Adding lighting to hallways.
Using slip-free backing for rugs, especially in the kitchen and bathroom.
Installing slip-free shower and tub mats.
Fitness and community
Fitness is important to overall health. A focus on building strength, flexibility, endurance, and balance can make tasks of daily life easier, while guarding against falls. Always consult with your doctor before starting a fitness plan, but walking is usually a great way to start. You could also consider fitness classes at a gym, exercising with a friend, joining a walking group, or investing in a personal trainer who can cater a workout to your needs. Adding the community aspect to exercise is an added bonus. Socialization can also improve your mood and contribute to your sense of purpose each day.
This February, we hope you'll celebrate National Senior Independence Month by making some positive changes in your life to help you remain independent. At DayBreak Adult Care Services, helping our clients improve their quality of life is a high priority. If you or a loved one are in need of adult care services that provide personal care in the privacy and security of your own home, or in hospitals, nursing homes, and in assisted living facilities, please contact us or view our list of services.